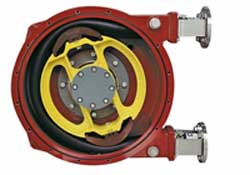 01 Aug

Peristaltic and MasoSine Pumps – how they work

Posted at 18:08h

in

Pumps

Peristaltic Pumps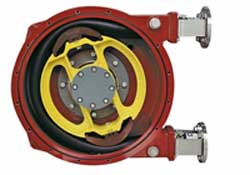 There is no contamination of the pump or fluid
Ideal for slurries, viscous, shear-sensitive and aggressive fluids
Easy to install, simple to operate, inexpensive to maintain.
Pump design prevents backflow and syphoning without valves
Wide range of tubing includes industrial, food-grade and medical
Nothing but the hose or tube touches the fluid, eliminating the risk of the pump contaminating the fluid, or the fluid contaminating the pump.
The animation shows fluid being drawn into a pump, trapped between two shoes (in a Bredel hose pump) or rollers (in a Watson-Marlow tube pump), and finally being expelled from the pump. Gaps between packets of fluid are shown only to help visualise the action.
The complete closure of the hose which is squeezed between a shoe and the track gives the pump its positive displacement action, preventing backflow and eliminating the need for check-valves when the pump is not running.
MasoSine Pumps
The MasoSine pump is a highly reliable and economical Positive Displacement Pump for sanitary and industrial applications. Our exclusive sinusoidal rotor overcomes the limitations of conventional rotary lobe pumps to produce powerful suction with low shear, low pulsation, and gentle handling…all with simple and fast maintenance and 3-A certification.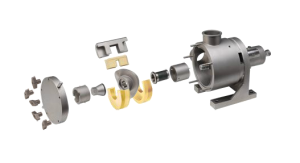 Learn more about the key facts.
MasoSine engineers have overcome the limitations of conventional rotary lobe pumps to create one of the most efficient and reliable positive displacement pumps available.
MasoSine's exclusive single shaft and single sinusoidal rotor are the centerpieces of an innovative, simple design. With a single shaft and rotor, there is no need for the complex timing gears and multiple seals associated with conventional rotary lobe pumps. One rotor, one shaft and one seal equate to simple and economic maintenance.
Highly reliable MasoSine positive displacement pumps are the result of over 25 years of engineering innovation and product development. Customers benefit from less waste and faster processing with low shear, high suction, low pulsation, gentle handling of whole foods or highly viscous products, and simple economical cleaning and maintenance.